Whe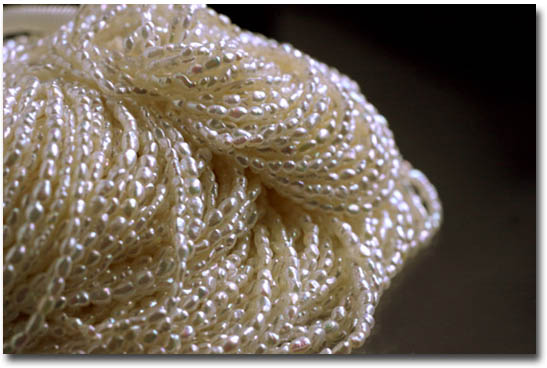 n I refer to Keshi
in this article, I am referring to Japanese Akoya Saltwater Keshi pearls. "Keshi" was initially used to refer to natural seed pearls found when harvesting the Japanese Akoya oysters. These natural pearls resembled poppy seeds, which in Japanese is called 'Keshi' thus the name. Keshi may result from either freshwater or saltwater pearls but by the traditional definition, Keshi are NOT freshwater pearls. In the marketplace, many dealers are using the term Keshi and referring to Chinese freshwater pearls. Chinese freshwater pearls are not the traditional Keshi and it is our opinion that they should not be called as such. CIBJO an international confederation of national jewelry trade organizations has the current definition of Keshi as follows on Page 16 of the Pearl Book : "5.102. Keshi Cultured Pearl A trade term that designates a non-beaded cultured pearl (5.137) formed accidentally or intentionally by human intervention in marine pearl oysters such as the Akoya oyster (Pinctada fucata(5.159), Silver/Gold lipped oyster (5.199) (Pinctada maxima (5.164)) and Black lipped oyster (Pinctada margaritifera (5.163)) and is a by-product of the culturing process.
The creation results from the formation of a pearl sac either following injury of the mantle rim upon handling, from a partial piece of the inserted (transplanted) mantle tissue (5.112) or the whole inserted piece (5.156) following the rejection of a bead (5.16). See also South Sea Keshi Cultured Pearl (5.199). (Hänni, 2006)"
I think in the market place there has to be a distinction made on the type of pearl you are talking about. With the availability of so many types of pearls, it can get difficult to evaluate them correctly as prices, quality, origins availability, etc are constantly changing.